Data. Be it for campaign or audience information, data delivers invaluable insights and provides greater control over revenue drivers.
For publishers, it is instrumental to understanding the value of inventory and how it is performing against competitors. For example, real-time bid level data will reveal how inventory is performing during exchange auctions.
But harnessing this critical data can be difficult, resulting in overly complicated reports that take hours if not days to complete. Not anymore.
This essential information and other revenue drivers are easily found in our robust MediaAlpha for Publishers reporting and analytics dashboards for vertical search media.
Real-time, clicks, calls and leads ad-level performance data is readily available to review trends, and supply and demand to help you make informed media decisions. The granular data surfaced by the MediaAlpha reporting dashboard empowers publishers to:
analyze the bid landscape, and optimize pricing strategies by identifying business trends and opportunities in the market;
set different price points depending on audience segments, formats, geographic and more;
identify high-volume advertisers to build stronger partnerships with; and,
spot any potential programmatic inefficiencies.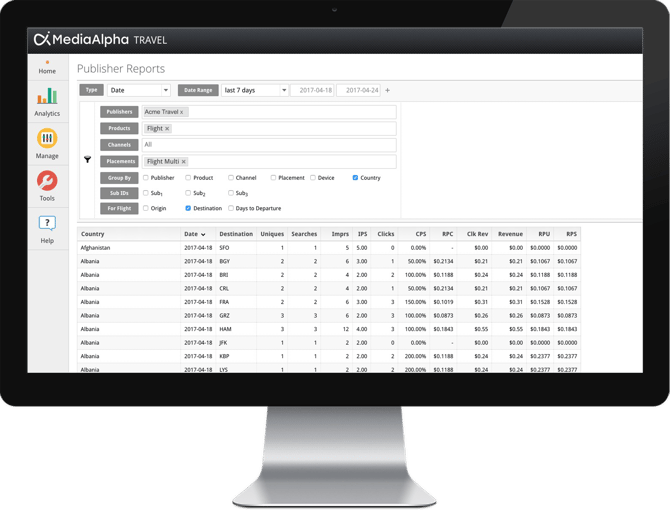 Built with publishers' business requirements in mind, the flexible report builder enables publishers to generate custom reports parceled by any configuration. With an intuitive interface, publishers can easily segment the dashboard view with multiple filters:
Time Period
Buyer
Media Type
Design
Products
Channels
Placements
Geography
And more
Not only is this crucial data accessible within the MediaAlpha platform, it is also portable. Our reporting API automates the import of analytics into a publisher's internal analytics tool to provide a consolidated view of ad revenue. Reporting data can be exported into any file format and date range required. Set it once to import daily, and your reporting will be as current as possible, saving your resource teams hours each day.
Reap the benefits of the MediaAlpha reporting dashboard and harness your data into actionable insights to drive better business outcomes.
For more information on the reporting dashboard or API, and other MediaAlpha for Publishers platform features, please contact your MediaAlpha account representative or request a demo today.