Located within the MediaAlpha for Publishers platform, the Design Tool was created to give publishers greater control to take the guesswork out of ad design and maximize overall yield.
Publishers can quickly develop and customize numerous vertical search ads in minutes. From dimensions to images to colors, ads can be created to match the visual aesthetic of any publisher website or specific advertiser branding. Publishers can continually iterate and optimize the creative design to increase engagement and create high-performing experiences for their visitors.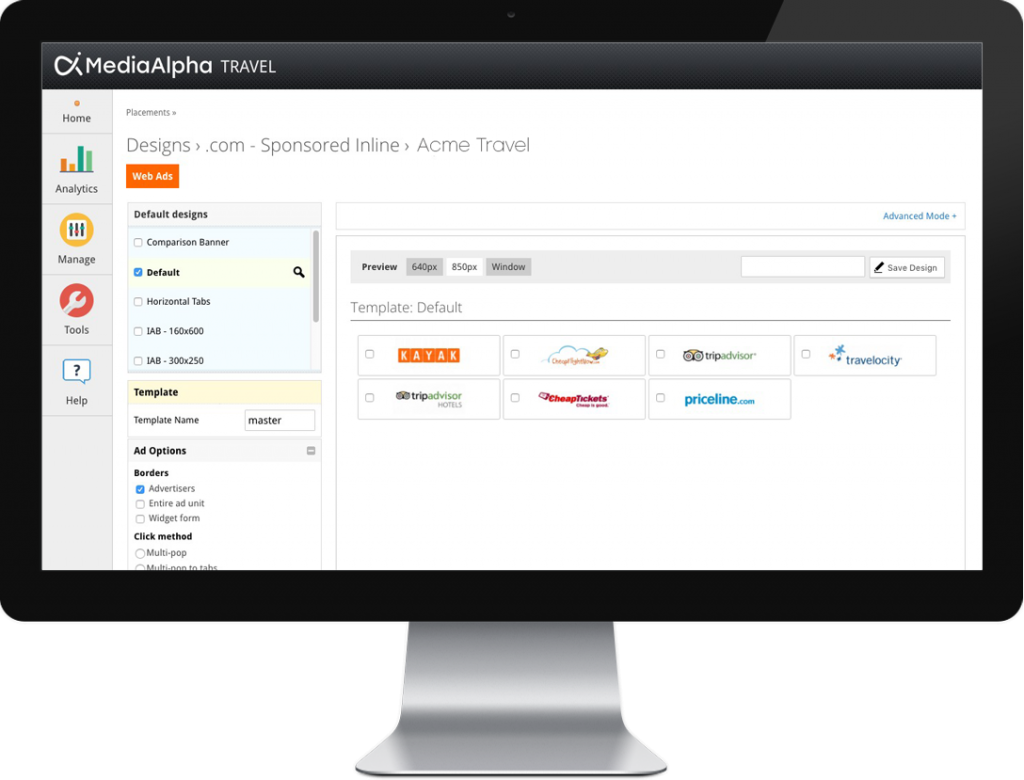 But the real value of the MediaAlpha Design Tool is that it also gives publishers full control over the monetization of their vertical search inventory.
Through the MediaAlpha Design Tool, publishers can experiment with creative to uncover customer insights and improve the yield of their ads in real-time while the campaign is running.
For example, an auto insurance publisher using MediaAlpha for Publishers leveraged the Design Tool to automatically split-test various vertical search ads to evaluate which design, image, and call-to-action generated the highest ROI. The results were dramatic. By conducting A/B testing on a new design, the MediaAlpha platform helped the publisher increase Revenue per Click (RPC) by 11% and Revenue per Search (RPS) by 60%, as shown below.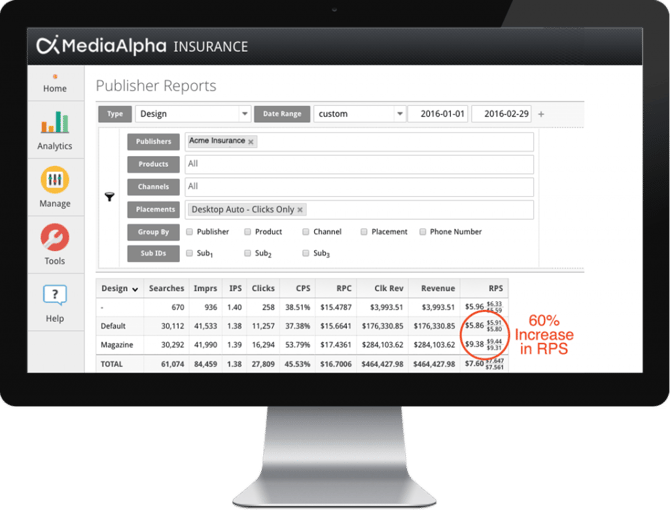 A publisher partner in the travel vertical also achieved similar success. This travel publisher utilized the MediaAlpha Design Tool to run a split test on new creative. The result? They realized a 20% increase in their RPS. That's a significant improvement in monetization!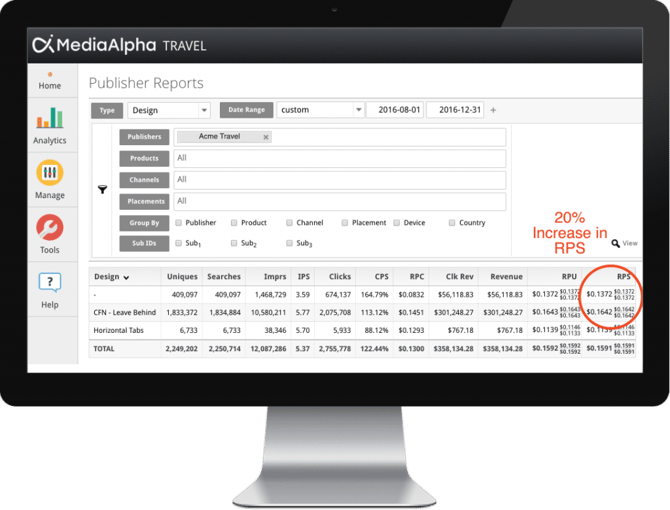 The Design tool also offers users the ability to weight their split-tests. Publishers can designate which ad to run more frequently to determine which ad is converting more.
The MediaAlpha platform will also accept custom-designed HTML ads uploaded into the system, and perform split-testing on those ads as well.
Robust and easy-to-use, the MediaAlpha Design Tool takes the guesswork out of ad design for monetization and enables data-informed decisions to ensure positive results.
For more information on the Design Tool or other MediaAlpha for Publishers platform features, please contact your MediaAlpha account representative or request a demo today.